Journal News / EWGA shows golf is good business for women
[ Back to Articles ]
May 17, 2010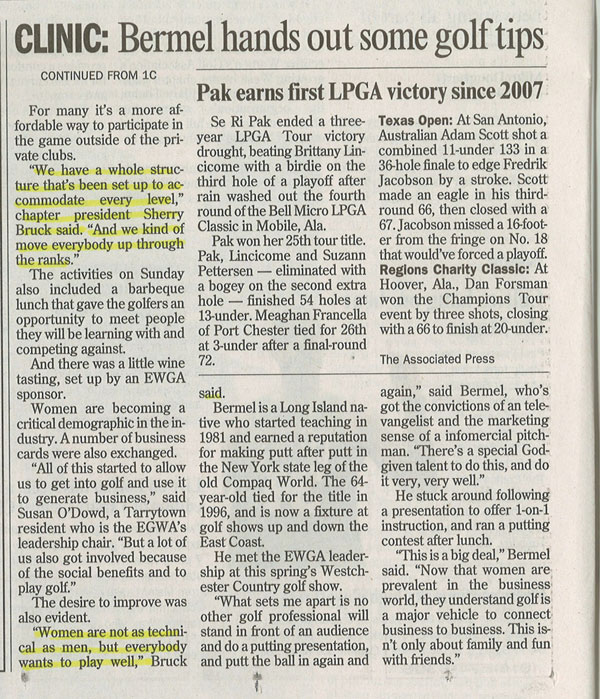 Playing tips, social networking all part of organization's purpose
Mike Dougherty mdougher@lohud.com
HARRISON - - The quips and quotes elicited a polite response until Joe Bermel Jr. got to an old Willie Park maxim that claims a man who can putt is a fair match for anybody.
"A woman who can putt ..." came the correction from the front row.
It was a point quickly acknowledged by the self-appointed Putting Doctor who made a house call Sunday as nearly 80 members of the Executive Women's Golf Association's growing Westchester chapter gathered at the home of Hilary Touhy, the organization's sponsorship chair, in advance of a full calendar of events. This wasn't solely a social occasion.
When the first members organized this chapter of the EWGA in 1998, the purpose was to provide equal footing to women in the local business community who recognized golf provided a way to develop and maintain important business relationships. It grew into a group that provides a comfortable environment for its 198 current members to learn and compete.
"Everyone's been really welcoming," said Heather Grosse, a financial advisor from Yorktown who joined over the winter. "There are so many things to think about with the swing along. And then you have the etiquette and the rules, just being comfortable with the women you're playing with makes it easier to learn the game."
The EGWA offers a slate of events geared to get women into the game from gatherings at the driving range to a tournament for players who have never competed in a tournament. They also conduct instructional outings and leagues on various public courses in the area for the more advanced players who enjoy a little competition.
Mike Dougherty/The Journal News