Upcoming Events
June 2014
My DAE colleague Rob Kissner and I are excited to moderate the BCW Power Breakfast Panel on Thursday, June 19th, 8:00 - 9:15 AM at the Crowne Plaza.
Panelists include:
Craig Patrick, Executive Director of Enrollment Strategies, Monroe College
Abigail Adams, Regional Communications Officer, American Red Cross Metro NY North
Kathy Gilwit, Director of Communications, City of New Rochelle
Michael Murphy, New Project Development, Murphy Brothers Contracting
Ric Swierat, Executive Director, Arc of Westchester
If you are an executive, business owner or marketing manager you'll appreciate this lively, informative and robust conversation about digital media best practices, challenges and solutions with our team of panelists who are using digital marketing strategies to benefit their organizations will provide insight, learning experiences, successes and concerns in order to give attendees a 360 degree view of this progressing marketing technique.




Harquin moves to DAE in White Plains
[ Back to News ]
July 12, 2013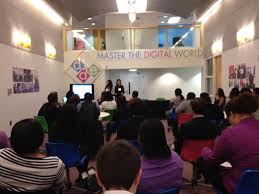 WHITE PLAINS — Rob Kissner envisioned the Digital Arts Experience as a provider of afterschool programs teaching digital technology, but one year later the business has turned into something unexpected.
Faced with overhead, payroll and bills, Kissner, 27, of Scarsdale, improvised a new model months after launching to complement classes in web design, Photoshop, computer coding, video production and other digital skills.
"We really started focusing on a community ... of creative people, tech-minded people, to come and network, work, learn from each other and be around other people like them," Kissner said from his storefront offices at 170 Hamilton Ave., across from the White Plains Mall. "What's really interesting is that we focused so much of our efforts on maintaining that community (that) the people that wanted to be a part of it came to us."
The influx of creative types means that the DAE has rented all the empty space in its two-level, 8,000-square-foot complex, and grown the number of users for its shared working area while continuing the tech classes for preteens and teens. The DAE's original mission continues Monday with a $1,200 two-week daylong summer camp that lets each participant walk away with a completed project that can be used in a portfolio or college application.
Kissner and his nascent creative community will celebrate their anniversary July 11 with a 6:30 p.m. networking event that also will showcase the DAE students' work.
The DAE already has prevented a local company from leaving Westchester County.
The Harquin Creative Group, a marketing and digital arts company, moved from Pelham into the DAE a month ago after considering moving to Brooklyn.
"We're excited because it's very young and energetic and lots of new things are going on here," Harquin co-founder Sherry Bruck said, noting her company's difficulty in attracting young workers to Westchester County. "I think the DAE is a great example of being able to harness that youth and creativity into one place to counteract what everybody believes about Westchester."
For full Journal News article >