Upcoming Events
June 2014
My DAE colleague Rob Kissner and I are excited to moderate the BCW Power Breakfast Panel on Thursday, June 19th, 8:00 - 9:15 AM at the Crowne Plaza.
Panelists include:
Craig Patrick, Executive Director of Enrollment Strategies, Monroe College
Abigail Adams, Regional Communications Officer, American Red Cross Metro NY North
Kathy Gilwit, Director of Communications, City of New Rochelle
Michael Murphy, New Project Development, Murphy Brothers Contracting
Ric Swierat, Executive Director, Arc of Westchester
If you are an executive, business owner or marketing manager you'll appreciate this lively, informative and robust conversation about digital media best practices, challenges and solutions with our team of panelists who are using digital marketing strategies to benefit their organizations will provide insight, learning experiences, successes and concerns in order to give attendees a 360 degree view of this progressing marketing technique.




Harquin produces Successful 4th Annual Ring in the New Year at Noon
[ Back to News ]
January 7, 2014
Families enjoy fun-filled activities and noontime balloon drop at 4th annual end-of-the-year New Year celebration
New Rochelle, NY -- (January 03, 2014) – Over 1,200 revelers gathered in the atrium of New Roc City for the fourth annual Ring in the New Year at Noon on Tuesday, December 31. With Master of Ceremonies Jimmy Fink of 107.1 The Peak, New Roc City hosted the end-of-the-year celebration in a Times Square-simulated atmosphere complete with fun-filled family activities and an indoor balloon release at the stroke of noon. Ring in the New Year at Noon is sponsored by CB Richard Ellis, and is held in association with the New Rochelle Business Improvement District and their BID Family Day event series.

Ring in the New Year at Noon kicked-off at 10:30 a.m. with non-stop, fun-filled family activities including arts and crafts, face painters, magicians, music, dance lessons, martial arts demonstrations, photo booths, games and more supplied and organized by participating tenants included FunFuzion Games and Rides, Premier Martial Arts, Monroe College, LAZ Parking, Regal IMAX Theater, Modell's Sporting Goods, Planet Fitness, GameStop, Applebee's, Buffalo Wild Wings, the New Rochelle BID, and Macaroni Kid.

Families received free backpack goodie bags compliments of LAZ Parking filled with free gifts ranging from FunFuzion game cards, Planet Fitness t-shirts, memorabilia from Modell's, Premier Martial Arts and Monroe College, snacks from Applebee's, a flashlight key ring from the 325th Anniversary Committee of New Rochelle and much more. Additional support was given by United Services of America.

Additionally the event served as the closing ceremony for the City of New Rochelle's successful year-long 325th anniversary celebration (www.newrochelleny.com/325) which paid tribute to its rich history with a series of family-friendly events throughout 2013. A closing statement was made by committee chair Marianne Sussman.

"We are excited to invite the community to welcome 2014 at New Roc City in a fun, safe, daytime celebration.  We are thrilled that this event has become something Westchester families look forward to every holiday," said Susan Vinales, Real Estate Manager, CB Richard Ellis. "It is the perfect opportunity for people who have never been to New Roc City or New Rochelle to visit."

An exciting holiday event for young families in the community, Ring in the New Year at Noon has become an annual tradition at New Roc City. New Roc City is located at 33 Le Count Place in downtown New Rochelle.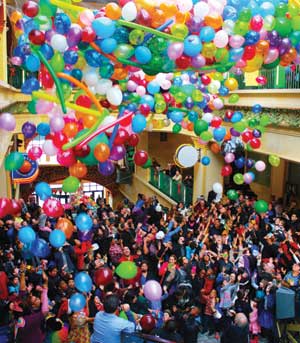 Crowd enjoys the excitement of the balloon drop
Eliana, 8 and Joseph, 4, of Scarsdale enjoy receiving their Ring in the New Year goodie backpack

Mae, 5, of New Rochelle displays her noisemaker made at the
BID family craft table

Jada, Ian, Jeremy and Bradley of North White Plains with mom and dad anticipating the noontime balloon drop.

The Monroe Mustang mascot with clown Gillian Getlan of FunFuzion