Upcoming Events
June 2014
My DAE colleague Rob Kissner and I are excited to moderate the BCW Power Breakfast Panel on Thursday, June 19th, 8:00 - 9:15 AM at the Crowne Plaza.
Panelists include:
Craig Patrick, Executive Director of Enrollment Strategies, Monroe College
Abigail Adams, Regional Communications Officer, American Red Cross Metro NY North
Kathy Gilwit, Director of Communications, City of New Rochelle
Michael Murphy, New Project Development, Murphy Brothers Contracting
Ric Swierat, Executive Director, Arc of Westchester
If you are an executive, business owner or marketing manager you'll appreciate this lively, informative and robust conversation about digital media best practices, challenges and solutions with our team of panelists who are using digital marketing strategies to benefit their organizations will provide insight, learning experiences, successes and concerns in order to give attendees a 360 degree view of this progressing marketing technique.




Prime Tourist Season For Hudson Valley Tourism
[ Back to News ]
August 19, 2014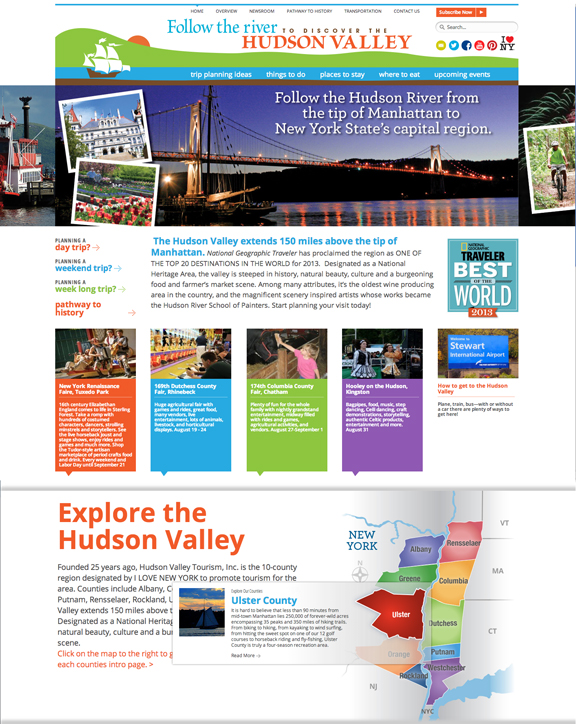 Hudson Valley Tourism (HVT) is a 10 county cooperative formed 25 years ago to position, brand and market "The Hudson Valley" as a top tourist destination for the New York, East Coast and International target. The geographic region covers 150 miles from Albany down to New York City.
Our scope of work included market research where we found through our interviews a consistent lack of knowledge on exactly where the Hudson Valley is and what counties it includes. On uncovering this insight we rebranded and designed the new website to include an interactive mapping feature and a prominent page for each county with a description of their assets. Work also included sponsorship outreach, public relations, an advertising campaign as well as ongoing strategic execution, and management of the website and pr program. Marketing report available on request.