Upcoming Events
June 2014
My DAE colleague Rob Kissner and I are excited to moderate the BCW Power Breakfast Panel on Thursday, June 19th, 8:00 - 9:15 AM at the Crowne Plaza.
Panelists include:
Craig Patrick, Executive Director of Enrollment Strategies, Monroe College
Abigail Adams, Regional Communications Officer, American Red Cross Metro NY North
Kathy Gilwit, Director of Communications, City of New Rochelle
Michael Murphy, New Project Development, Murphy Brothers Contracting
Ric Swierat, Executive Director, Arc of Westchester
If you are an executive, business owner or marketing manager you'll appreciate this lively, informative and robust conversation about digital media best practices, challenges and solutions with our team of panelists who are using digital marketing strategies to benefit their organizations will provide insight, learning experiences, successes and concerns in order to give attendees a 360 degree view of this progressing marketing technique.




Sherry Bruck and Susan O'Dowd Win Xcel Cup
[ Back to News ]
December 4, 2008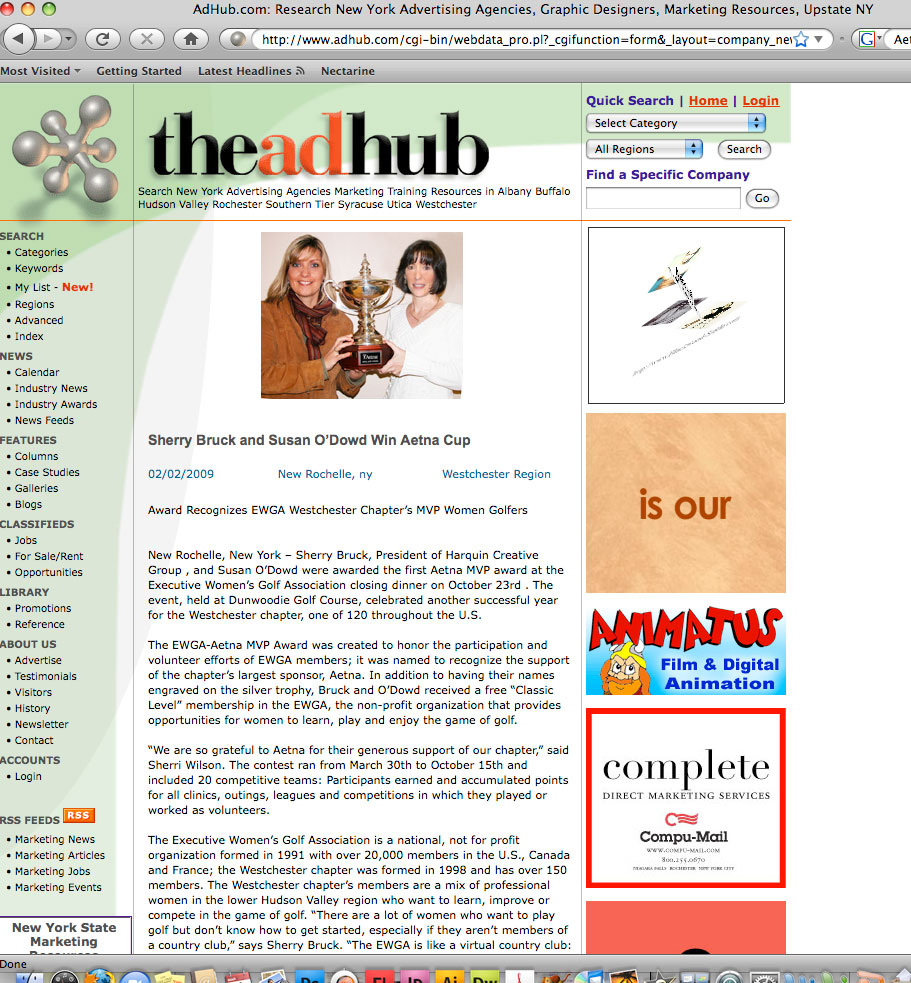 Award Recognizes EWGA Westchester Chapter's MVP Women Golfers
New Rochelle, New York – Sherry Bruck, President of Harquin Creative Group , and Susan O'Dowd were awarded the first Aetna MVP award at the Executive Women's Golf Association closing dinner on October 23rd . The event, held at Dunwoodie Golf Course, celebrated another successful year for the Westchester chapter, one of 120 throughout the U.S.
The EWGA-Aetna MVP Award was created to honor the participation and volunteer efforts of EWGA members; it was named to recognize the support of the chapter's largest sponsor, Aetna.  In addition to having their names engraved on the silver trophy, Bruck and O'Dowd received a free "Classic Level" membership in the EWGA, the non-profit organization that provides opportunities for women to learn, play and enjoy the game of golf.
"We are so grateful to Aetna for their generous support of our chapter," said Sherri Wilson. The contest ran from March 30th to October 15th and included 20 competitive teams: Participants earned and accumulated points for all clinics, outings, leagues and competitions in which they played or worked as volunteers.
The Executive Women's Golf Association is a national, not for profit organization formed in 1991 with over 20,000 members in the U.S., Canada and France; the Westchester chapter was formed in 1998 and has over 150 members. The Westchester chapter's members are a mix of professional women in the lower Hudson Valley region who want to learn, improve or compete in the game of golf. "There are a lot of women who want to play golf but don't know how to get started, especially if they aren't members of a country club," says president, Sherry Bruck. "The EWGA is like a virtual country club: Members pay $100 to join and have access to lessons and clinics, organized outings and competitive play as well as social events at both public courses and country club courses." For more information about Westchester chapter visit the website at  HYPERLINK "http://www.ewgawestchester.com" www.ewgawestchester.com.
Aetna is dedicated to helping people achieve health and financial security by providing easy access to safe, cost-effective, high-quality health care and protecting their finances against health-related risks. Building on its 154-year heritage, Aetna will is a leader cooperating with doctors and hospitals, employers, patients, public officials and others to build a stronger, more effective health care system.
Press Release
EWGA Westchester | P.O. Box 83 | Hawthorne, NY 10532 | (914) 378-0419