Upcoming Events
June 2014
My DAE colleague Rob Kissner and I are excited to moderate the BCW Power Breakfast Panel on Thursday, June 19th, 8:00 - 9:15 AM at the Crowne Plaza.
Panelists include:
Craig Patrick, Executive Director of Enrollment Strategies, Monroe College
Abigail Adams, Regional Communications Officer, American Red Cross Metro NY North
Kathy Gilwit, Director of Communications, City of New Rochelle
Michael Murphy, New Project Development, Murphy Brothers Contracting
Ric Swierat, Executive Director, Arc of Westchester
If you are an executive, business owner or marketing manager you'll appreciate this lively, informative and robust conversation about digital media best practices, challenges and solutions with our team of panelists who are using digital marketing strategies to benefit their organizations will provide insight, learning experiences, successes and concerns in order to give attendees a 360 degree view of this progressing marketing technique.




Harquin Designs the WLS bookmobile
[ Back to News ]
July 16, 2008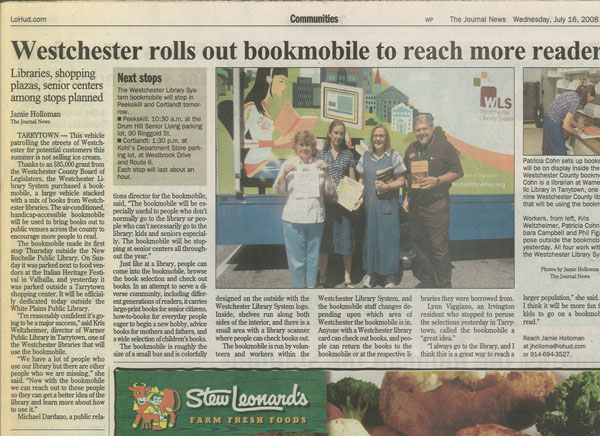 TARRYTOWN - This vehicle patrolling the streets of Westchester for potential customers this summer is not selling ice cream.
Thanks to an $85,000 grant from the Westchester County Board of Legislators, the Westchester Library System purchased a bookmobile, a large vehicle stacked with a mix of books from Westchester libraries. The air-conditioned, handicap-accessible bookmobile will be used to bring books out to public venues across the county to encourage more people to read.
The bookmobile made its first stop Thursday outside the New Rochelle Public Library. On Sunday it was parked next to food vendors at the Italian Heritage Festival in Valhalla, and yesterday it was parked outside a Tarrytown shopping center. It will be officially dedicated today outside the White Plains Public Library.
"I'm reasonably confident it's going to be a major success," said Kris Weltzheimer, director of Warner Public Library in Tarrytown, one of the Westchesterlibraries that will use the bookmobile.
"We have a lot of people who use our library but there are other people who we are missing," she said. "Now with the bookmobile we can reach out to those people so they can get a better idea of the library and learn more about how to use it."
Michael Dardano, a public relations director for the bookmobile, said, "The bookmobile will be especially useful to people who don't normally go to the library or people who can't necessarily go to the library: kids and seniors especially. The bookmobile will be stopping at senior centers all throughout the year."
Just like at a library, people can come into the bookmobile, browse the book selection and check out books. In an attempt to serve a diverse community, including different generations of readers, it carries large-print books for senior citizens, how-to-books for everyday people eager to begin a new hobby, advice books for mothers and fathers, and a wide selection of children's books.
The bookmobile is roughly the size of a small bus and is colorfully designed on the outside with the Westchester Library System logo. Inside, shelves run along both sides of the interior, and there is a small area with a library scanner where people can check books out.
The bookmobile is run by volunteers and workers within the Westchester Library System, and the bookmobile staff changes depending upon which area ofWestchester the bookmobile is in. Anyone with a Westchester library card can check out books, and people can return the books to the bookmobile or at the respective libraries they were borrowed from.
Lynn Viggiano, an Irvington resident who stopped to peruse the selections yesterday in Tarrytown, called the bookmobile a "great idea."
"I always go to the library, and I think this is a great way to reach a larger population," she said. "Also, I think it will be more fun for the kids to go on a bookmobile to read."
Workers, from left, Kris Weltzheimer, Patricia Cohn, Barbara Campbell and Phil Figario pose outside the bookmobile yesterday. All four work within the Westchester Library System.
Reach Jamie Holloman at jholloma@lohud.com or 914-694-3527.