Upcoming Events
June 2014
My DAE colleague Rob Kissner and I are excited to moderate the BCW Power Breakfast Panel on Thursday, June 19th, 8:00 - 9:15 AM at the Crowne Plaza.
Panelists include:
Craig Patrick, Executive Director of Enrollment Strategies, Monroe College
Abigail Adams, Regional Communications Officer, American Red Cross Metro NY North
Kathy Gilwit, Director of Communications, City of New Rochelle
Michael Murphy, New Project Development, Murphy Brothers Contracting
Ric Swierat, Executive Director, Arc of Westchester
If you are an executive, business owner or marketing manager you'll appreciate this lively, informative and robust conversation about digital media best practices, challenges and solutions with our team of panelists who are using digital marketing strategies to benefit their organizations will provide insight, learning experiences, successes and concerns in order to give attendees a 360 degree view of this progressing marketing technique.




Harquin creates brand position for Keating Electric
[ Back to News ]
December 7, 2009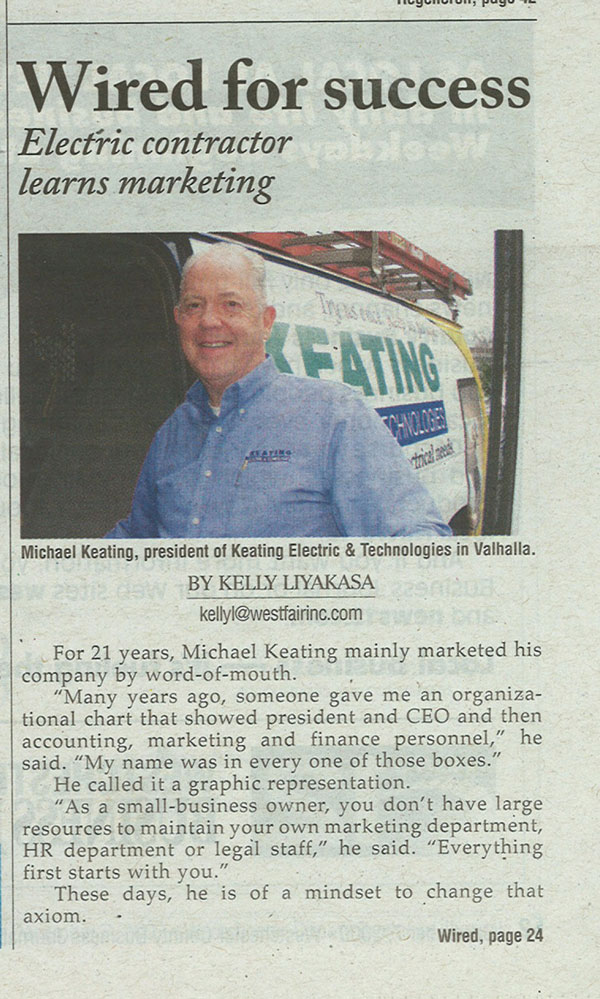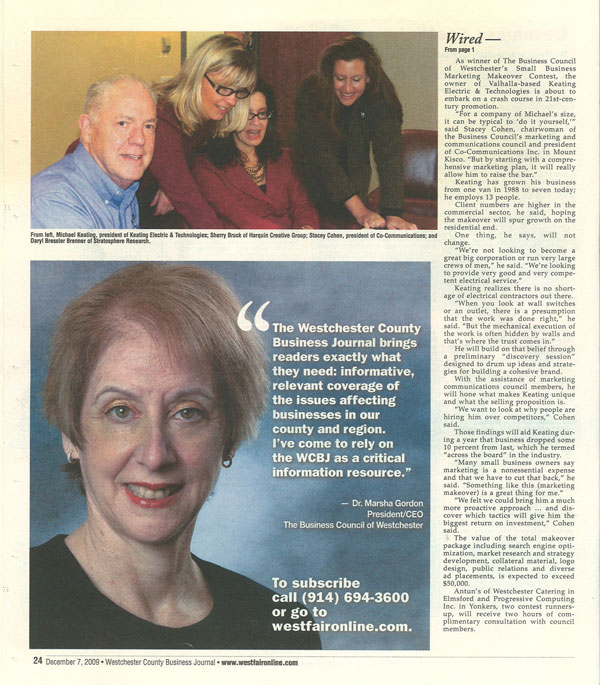 For 21 years, Michael Keating mainly marketed his company by word-of-mouth.
"Many years ago, someone gave me an organizational chart that showed president and CEO and then accounting, marketing and finance personnel," he said. "My name was in every one of those boxes."

He called it a graphic representation.

"As a small-business owner, you don't have large resources to maintain your own marketing department, HR department or legal staff," he said. "Everything first starts with you."

These days, he is of a mindset to change that axiom.
As winner of The Business Council of Westchester's Small Business Marketing Makeover Contest, the owner of Valhalla-based Keating Electric & Technologies is about to embark on a crash course in 21st-century promotion. "For a company of Michael's size, it can be typical to 'do it yourself,'" said Stacey Cohen, chairwoman of the Business Council's marketing and communications council and president of Co-Communications Inc. in Mount Kisco. "But by starting with a comprehensive marketing plan, it will really allow him to raise the bar."
Keating has grown his business from one van in 1988 to seven today; he employs 13 people.

Client numbers are higher in the commercial sector, he said, hoping the makeover will spur growth on the residential end.
One thing, he says, will not change.
"We're not looking to become a great big corporation or run very large crews of men," he said. "We're looking to provide very good and very competent electrical service."

Keating realizes there is no shortage of electrical contractors out there.
"When you look at wall switches or an outlet, there is a presumption that the work was done right," he said. "But the mechanical execution of the work is often hidden by walls and that's where the trust comes in."

He will build on that belief through a preliminary "discovery session" designed to drum up ideas and strategies for building a cohesive brand.
With the assistance of marketing communications council members, he will hone what makes Keating unique and what the selling proposition is.

"We want to look at why people are hiring him over competitors," Cohen said.
Those findings will aid Keating during a year that business dropped some 10 percent from last, which he termed "across the board" in the industry.
"Many small business owners say marketing is a nonessential expense and that we have to cut that back," he said. "Something like this (marketing makeover) is a great thing for me."

"We felt we could bring him a much more proactive approach … and discover which tactics will give him the biggest return on investment," Cohen said.
The value of the total makeover package including search engine optimization, market research and strategy development, collateral material, logo design, public relations and diverse ad placements, is expected to exceed $50,000.
Antun's of Westchester Catering in Elmsford and Progressive Computing Inc. in Yonkers, two contest runners-up, will receive two hours of complimentary consultation with council members.