Upcoming Events
June 2014
My DAE colleague Rob Kissner and I are excited to moderate the BCW Power Breakfast Panel on Thursday, June 19th, 8:00 - 9:15 AM at the Crowne Plaza.
Panelists include:
Craig Patrick, Executive Director of Enrollment Strategies, Monroe College
Abigail Adams, Regional Communications Officer, American Red Cross Metro NY North
Kathy Gilwit, Director of Communications, City of New Rochelle
Michael Murphy, New Project Development, Murphy Brothers Contracting
Ric Swierat, Executive Director, Arc of Westchester
If you are an executive, business owner or marketing manager you'll appreciate this lively, informative and robust conversation about digital media best practices, challenges and solutions with our team of panelists who are using digital marketing strategies to benefit their organizations will provide insight, learning experiences, successes and concerns in order to give attendees a 360 degree view of this progressing marketing technique.




Hudson Valley Economic Development Center Launches new campaign
[ Back to News ]
March 23, 2011
Gillibrand, Business Leaders Kickoff Campaign to Make the Region a Hub for Biotech Industry
NY BioHud Valley will be New York's cluster for biotech industry
TARRYTOWN, N.Y. (Oct. 26) – Trumpeting the Hudson Valley as New York's epicenter for biotechnology and pharmaceutical innovation, Senator Kirsten Gillibrand and a host of business leaders today formally unveiled the "NY BioHud Valley" campaign designed to reinforce that the Hudson Valley is the epicenter of the biotech industry in New York.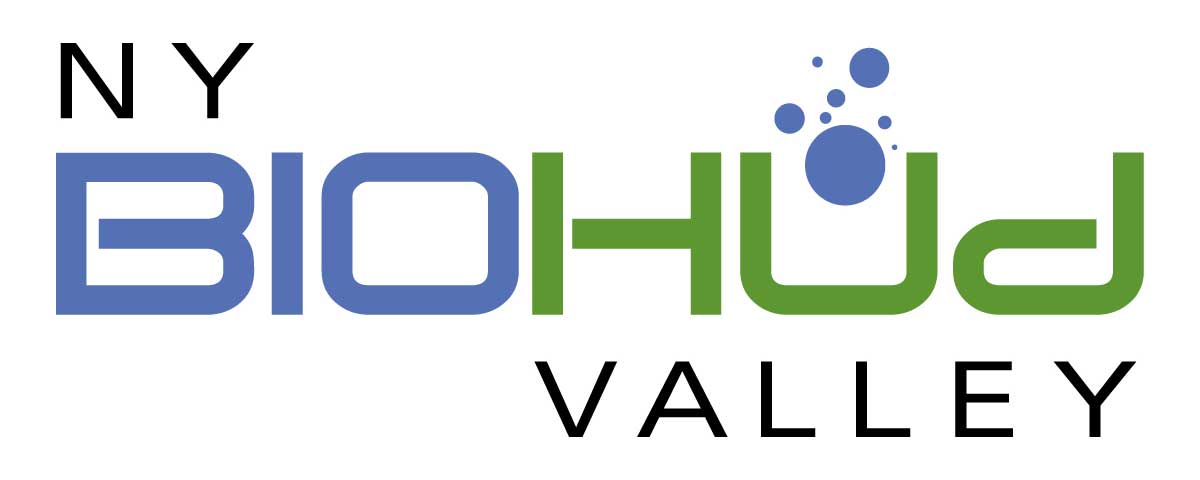 The NY BioHud Valley sector was
named and designed in partnership
between Harquin of Pelham and
Co-Communications of Mount Kisco.
Gillibrand's announcement highlighted a series of events that introduced the campaign to various business, political and community leaders from across the region. The Hudson Valley's seven counties Westchester, Rockland, Orange, Dutchess, Putnam, Ulster, Sullivan – now host more than 60 biotech companies because of its easy access to a tremendously smart workforce, leading research institutes, medical centers, laboratories and academic research organizations.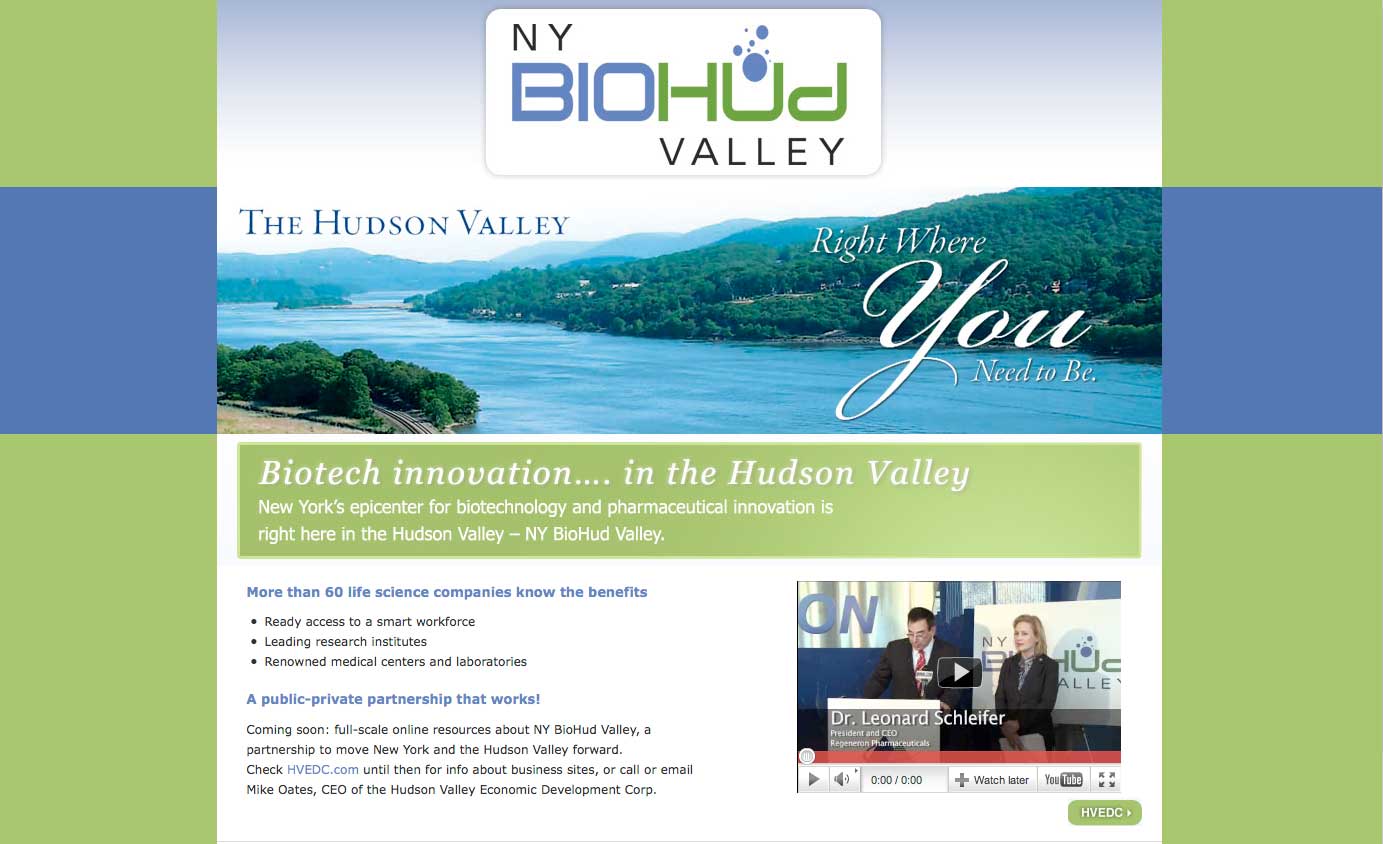 "NY BioHud Valley is the future of our economy, here in the Lower Hudson Valley," said U.S. Senator Kirsten Gillibrand. "We are home to a well-educated workforce, world-class research institutions, medical centers, laboratories and academic research organizations. This campaign, a true public-private partnership, will reinforce what we've known for years—the Hudson Valley is the burgeoning epicenter of the biotech industry."
To retain and attract biotech companies to the region, the campaign will aggressively market to end users, brokers and site selectors, county and state agencies, property owners and, real estate developers. The campaign logo was also unveiled today.
"The Hudson Valley is fertile ground for continued expansion by biotech companies, given the growing biotech base, the Valley's attractiveness as a place to live and do business, and easy access to the enormous scientific and business talent of the broader New York metro area," said Leonard S. Schleifer, the President and CEO of Regeneron Pharmaceuticals, Inc., a Tarrytown-based biopharmaceutical firm that has increased its workforce to nearly 1500 employees from just over 1,000 employees at the beginning of the year.
With a highly-skilled workforce and real estate opportunities available, the Hudson Valley is primed to become a center for biotech breakthroughs in the next decade and beyond.
"By branding the cluster, we are formally acknowledging biotech's crucial role as a key player in helping to spur the regional economy," said Laurence Gottlieb, Westchester County's Director of Economic Development.
"We are amazingly pleased to be partnered as founding members of this new initiative," said Dr. Charles J. DiComo, vice president of Operations and Corporate Compliance Officer at Aureon Laboratories, Inc., located in Yonkers, N.Y. "We are especially looking forward to building relationships with all of the businesses involved in this exciting new venture."

Former Federal Health Administrator for this region of the country, Dr. Robert Amler who is currently vice president of government affairs and dean of public health at NY Medical College added, "Everyone knows that biotechnology, health and medicine are the future of the U.S. economy as well as the N.Y. state economy. This is a major step forward that the most productive elements of that industry will be focused right here in the Hudson Valley."

Even with a tough economy around the globe, the Hudson Valley has seen advances in business growth, adding fuel in the last several years to its economic clout and viability.

"Hudson Valley is producing a critical mass of industry, research and commercial R&D in the area of biotechnology," said Nathan Tinker, executive director for the NY Biotechnology Association, "This is a major key to cluster development and creating the sorts of relationships between companies, workforces and end-users of the product."

"Rockland County is proud to be a part of this exciting new initiative that will bring more jobs to our region and help us become a leader in the biotech industry," said Rockland County Executive, C. Scott Vanderhoef. "We welcome companies to our region that will help our economy thrive."

"The region is already known as a hub for world-class research," said Mike Oates, president and CEO of HVEDC. "Adding to our cluster of biotech companies will fuel job creation and investment in the Hudson Valley. We are thrilled to be working closely with Senator Gillibrand to develop this important cluster which will produce long term benefits to our state's economy."

About Hudson Valley Economic Development Corporation (HVEDC): HVEDC represents seven counties in Hudson Valley: Westchester, Rockland, Orange, Dutchess, Sullivan, Ulster and Putnam counties. The public-private partnership markets the region as one of the world's prime business locations to corporate executives, site selection consultants and real estate brokers. In addition, HVEDC's mission includes aggressive advocacy in Albany to secure state support for economic development projects in the Hudson Valley.

For more information on Hudson Valley Economic Development Corporation, visit www.hvedc.com or call 845-220-2244.