Upcoming Events
June 2014
My DAE colleague Rob Kissner and I are excited to moderate the BCW Power Breakfast Panel on Thursday, June 19th, 8:00 - 9:15 AM at the Crowne Plaza.
Panelists include:
Craig Patrick, Executive Director of Enrollment Strategies, Monroe College
Abigail Adams, Regional Communications Officer, American Red Cross Metro NY North
Kathy Gilwit, Director of Communications, City of New Rochelle
Michael Murphy, New Project Development, Murphy Brothers Contracting
Ric Swierat, Executive Director, Arc of Westchester
If you are an executive, business owner or marketing manager you'll appreciate this lively, informative and robust conversation about digital media best practices, challenges and solutions with our team of panelists who are using digital marketing strategies to benefit their organizations will provide insight, learning experiences, successes and concerns in order to give attendees a 360 degree view of this progressing marketing technique.




Sherry Bruck honored as an EWGA "Women Who Lead Volunteer"
[ Back to News ]
April 20, 2012
Honorees Enhanced Experiences for Members, All Aspiring or Current Business and Professionals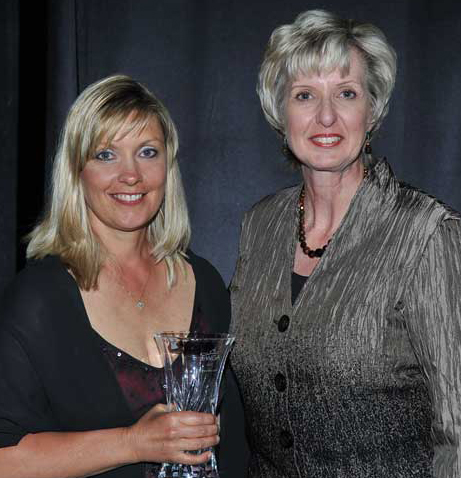 Sherry Bruck, Westchester, NY Chapter; Margaret Downey, President, EWGA Board of Directors.
EWGA today announces its annual "Women Who Lead" awardees, specifically recognizing excellence in volunteer leadership throughout the organization, which is the largest women-focused amateur golf association in the U.S.

These women are being honored for making a difference in their Chapters – of which there are 125 throughout the United States, Canada and Italy – by achieving results through outstanding performance.

• Deborah Allen, Hampton Roads, VA Chapter
• Elizabeth Armstrong, Greater Richmond, VA Chapter
• Aura Arriaga, Omaha, NE Chapter
• Pam Banister, Atlanta, GA Chapter
• Sherry Bruck, Westchester, NY Chapter
• Dawn Filippine, Kalamazoo/Battle Creek Chapter
• Alice Hoctor, Cincinnati, OH Chapter
• Kris Leone, Palm Beach County, FL Chapter
• Kim Thomas, Washington DC Metro Chapter
• Nancy Williams, Central Indiana Chapter

The winners were selected from a distinguished group of nominees and received their commemorative awards at the EWGA annual national conference on April 20, 2012 in Las Vegas, Nevada.

"Given the wealth of talent each individual possesses, as well as their achievements, leadership skills and passion to support the EWGA, the selection process was indeed a challenging one," said EWGA CEO Pam Swensen. "We are grateful to these outstanding people, who enrich the experiences of sister members and who make EWGA the unparalleled professional and personal networking organization for women."

"I've run my own company for 20 years and I thought I knew what it meant to be a leader. But it wasn't until I joined EWGA in 2005 and the army of volunteers that keep this organization running and vibrant did I truly comprehend the definition. EWGA has opened so many doors that I've walked through with the help of my fellow board members to support new ideas to grow our chapter. Since joining I've met women who are incredibly accomplished, positive, who love the game of golf and aren't afraid to push past boundaries. They've taught me so many valuable lessons and to be nominated in their company and then win this award is truly an honor that I will treasure forever. I am so grateful to the EWGA leadership and thank you", says Sherry Bruck, president of Harquin Creative Group.

The EWGA commends all the nominees for their achievements, the high regard in which they are held by their peers, and the dedication they exemplify. We celebrate the many successes that have been achieved within each Chapter and within the EWGA as a whole.

EWGA Westchester, NY is part of a national women's golf association (EWGA) that provides affordable, organized golf, free networking, business and success insights from accomplished executives, travel and equipment discounts, and a variety of local and national benefits.
Article links: World Golf, EWGA, Westfair Online, 914Inc.