Tell the world
where you stand.
Shout it. Whisper it.
Just don't mumble it.
Every ounce of what your product or service can be, that's what your advertising must be.




Bruck Named President of EWGA, Westchester
[ Back to Articles ]
March 5, 2010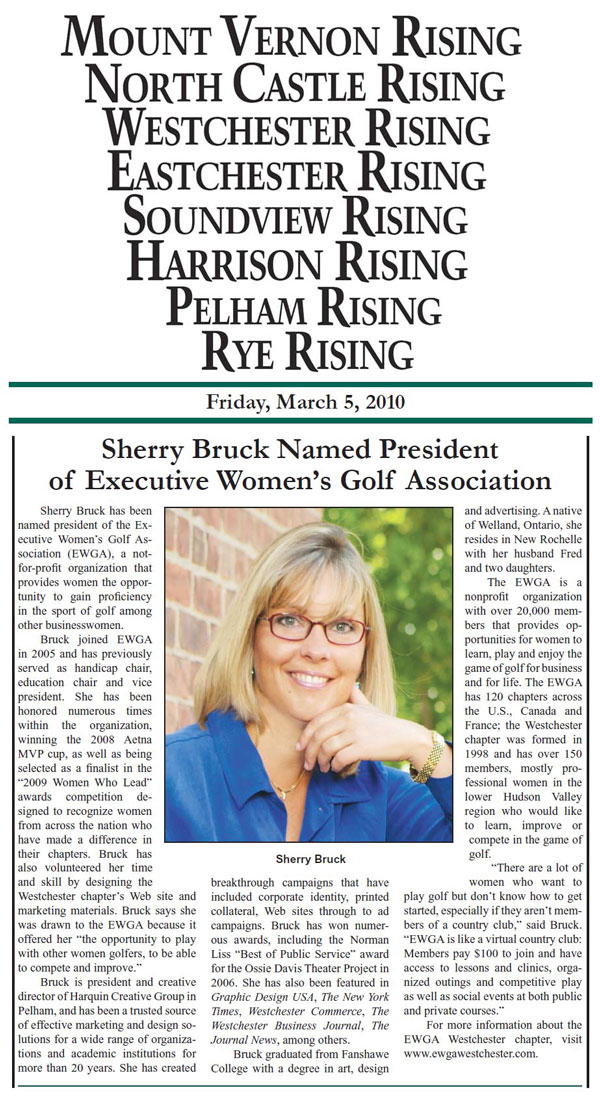 Sherry Bruck has been named president of the Executive Women's Golf Association (EWGA), a not- for-profit organization that provides women the oppor- tunity to gain proficiency in the sport of golf among other businesswomen.
Bruck joined EWGA in 2005 and has previously served as handicap chair, education chair and vice president. She has been honored numerous times within the organization, winning the 2008 Aetna MVP cup, as well as being selected as a finalist in the "2009 Women Who Lead" awards competition designed to recognize women from across the nation who have made a difference in their chapters. Bruck has also volunteered her time and skill by designing the Westchester chapter's Web site and marketing materials. Bruck says she was drawn to the EWGA because it offered her "the opportunity to play with other women golfers, to be able to compete and improve."
Bruck is president and creative director of Harquin Creative Group in Pelham, and has been a trusted source of effective marketing and design solutions for a wide range of organizations and academic institutions for more than 20 years. She has created breakthrough campaigns that have included corporate identity, printed collateral, Web sites through to ad campaigns. Bruck has won numerous awards, including the Norman Liss "Best of Public Service" award for the Ossie Davis Theater Project in 2006. She has also been featured in Graphic Design USA, The New York Times, Westchester Commerce, The Westchester Business Journal, The Journal News, among others.
Bruck graduated from Fanshawe College with a degree in art, design and advertising. A native of Welland, Ontario, she resides in New Rochelle with her husband Fred and two daughters.
The EWGA is a nonprofit organization with over 20,000 members that provides op- portunities for women to learn, play and enjoy the game of golf for business and for life. The EWGA has 120 chapters across the U.S., Canada and France; the Westchester chapter was formed in 1998 and has over 150 members, mostly pro- fessional women in the lower Hudson Valley region who would like to learn, improve or compete in the game of golf.
"There are a lot of women who want to play golf but don't know how to get started, especially if they aren't members of a country club," said Bruck. "EWGA is like a virtual country club: Members pay $100 to join and have access to lessons and clinics, orga- nized outings and competitive play as well as social events at both public and private courses." For more information about the
EWGA Westchester chapter, visit www.ewgawestchester.com.