Upcoming Events
June 2014
My DAE colleague Rob Kissner and I are excited to moderate the BCW Power Breakfast Panel on Thursday, June 19th, 8:00 - 9:15 AM at the Crowne Plaza.
Panelists include:
Craig Patrick, Executive Director of Enrollment Strategies, Monroe College
Abigail Adams, Regional Communications Officer, American Red Cross Metro NY North
Kathy Gilwit, Director of Communications, City of New Rochelle
Michael Murphy, New Project Development, Murphy Brothers Contracting
Ric Swierat, Executive Director, Arc of Westchester
If you are an executive, business owner or marketing manager you'll appreciate this lively, informative and robust conversation about digital media best practices, challenges and solutions with our team of panelists who are using digital marketing strategies to benefit their organizations will provide insight, learning experiences, successes and concerns in order to give attendees a 360 degree view of this progressing marketing technique.




What Every Company Needs to Know About Marketing
[ Back to News ]
November 8, 2012
It's more than you think.
For the full 914Inc. article click here.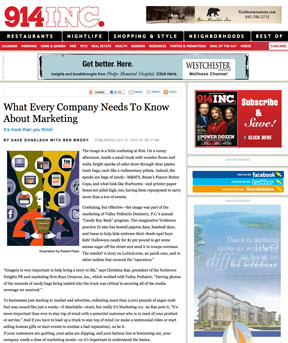 Article excerpt...Once you've identified your targets, it's time to figure out how to appeal to them. One way to do that is through formal (read: expensive) market research. Another method is what's known as "mother-in-law research"—actually talking to people and asking them questions. What a concept! It's not particularly sophisticated, but it may very well tell you what you need to know. "Our first step is to interview the company or organization's users to find out what they think and feel," says Sherry Bruck, creative director of the Harquin Creative Group, a brand-strategy consulting firm in Pelham. "I start with a list of the company's clients. I call them and dig into how they interact with the company." She adds, "Depending on what they say, we integrate that feedback into the organization's brand strategy." Only then comes the creation of what she calls "touch points" like brochures, websites, e-blasts, or advertising campaigns.
Bruck tells how that approach shaped a recent marketing plan: "We did a project with New Roc City to get rid of some of the perceptions about it being dark and full of kids hanging out at night. I talked to a lot of people in the community and our research showed that we weren't going to change that perception, so we suggested a strategy that called for organizing events during the day, many of which have age limits for kids. When you know what people are thinking and feeling, that's the basis for your strategy."  click for more>