Upcoming Events
June 2014
My DAE colleague Rob Kissner and I are excited to moderate the BCW Power Breakfast Panel on Thursday, June 19th, 8:00 - 9:15 AM at the Crowne Plaza.
Panelists include:
Craig Patrick, Executive Director of Enrollment Strategies, Monroe College
Abigail Adams, Regional Communications Officer, American Red Cross Metro NY North
Kathy Gilwit, Director of Communications, City of New Rochelle
Michael Murphy, New Project Development, Murphy Brothers Contracting
Ric Swierat, Executive Director, Arc of Westchester
If you are an executive, business owner or marketing manager you'll appreciate this lively, informative and robust conversation about digital media best practices, challenges and solutions with our team of panelists who are using digital marketing strategies to benefit their organizations will provide insight, learning experiences, successes and concerns in order to give attendees a 360 degree view of this progressing marketing technique.




Sherry Bruck participates in Branding in a Digital World Panel
[ Back to News ]
November 22, 2013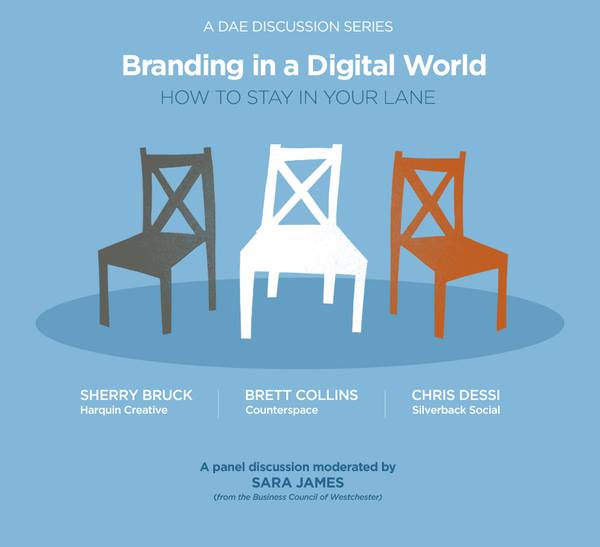 Branding in a Digital World
How to Stay in Your Lane
Branding experts Brett Collins of Counterspace, Chris Dessi of Silverback Social, Sherry Bruck of Harquin Creative & the Digital Arts Experience team gathered for an evening of wine, invaluable information, hors d'eouvres, making friends & forming alliances while unraveling the mystery of branding in today's day and age.
John Zanzarella of Silverback Social and a producer of the Westchester Digital Summit kicked off the evening with an important keynote: What is branding, and why is it relevant to you?
The panel than launched into a lively discussion that included defining what "Digital" mean, the theory behind the brand strategy, address digital marketing vernacular, standards of design, and how your brand affects your social media strategy, all while being surrounded by other business owners and creatives in the Digital Arts Experience's beautiful loft in downtown White Plains.
For a peek at how it went click on our Storify link.