Upcoming Events
June 2014
My DAE colleague Rob Kissner and I are excited to moderate the BCW Power Breakfast Panel on Thursday, June 19th, 8:00 - 9:15 AM at the Crowne Plaza.
Panelists include:
Craig Patrick, Executive Director of Enrollment Strategies, Monroe College
Abigail Adams, Regional Communications Officer, American Red Cross Metro NY North
Kathy Gilwit, Director of Communications, City of New Rochelle
Michael Murphy, New Project Development, Murphy Brothers Contracting
Ric Swierat, Executive Director, Arc of Westchester
If you are an executive, business owner or marketing manager you'll appreciate this lively, informative and robust conversation about digital media best practices, challenges and solutions with our team of panelists who are using digital marketing strategies to benefit their organizations will provide insight, learning experiences, successes and concerns in order to give attendees a 360 degree view of this progressing marketing technique.




Westchester County Business Journal
[ Back to News ]
July 14, 2008
Pharmacist adds 'sizzle' to drug rebranding effort
By JOHN GOLDEN, Westchester Business Journal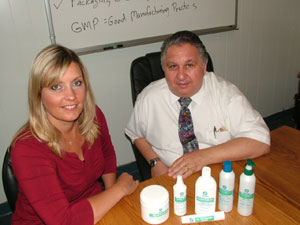 Sherry Bruck, Co-owner of Harquin Creative Group
with Anthony Madai
Anthony Madaio is a pharmacist and generic drug manufacturer in Mount Vernon. When he started his business 30 years ago in the Bronx to supply hospitals and nursing homes with patient-care products for which he saw an unmet need, branding was something his larger, higher-priced competitors did. Madaio focused far more on what came in the package than the package itself.

"Colors didn't mean too much to me 30 years ago," he said at his 50,000-square-foot plant on Kingsbridge Road East in Mount Vernon, the city in which his company, Geritrex Corp., has operated for 25 years. "But today with marketing and everything, you just don't catch people's attention if it doesn't look nice. That's just part of society now."

A second-generation pharmacist – his father, Frank, helped formulate some Geritrex products and at 88 still works one day a week at a Peekskill drug store – Madaio designed most of the packaging himself, including the company's logo. "Suddenly I realized that the logo by itself wasn't enough to catch people's attention. They needed to see the name (Geritrex) in their face more."
Madaio and Sherry Bruck, the co-owner and creative director of a design and marketing agency in Pelham, opportunely crossed paths at a meeting of The Alternative Board, a national company that brings small-business owners and CEOs together for peer advice. In Westchester County, they are members of an eight-person board whose monthly meetings rotate among their companies' offices, where members freely exchange gripes and insights about personnel, finances and other common business matters.
"We advise each other as business owners on things," said Madaio, whose company has about 40 employees and grosses more than $6 million annually in wholesale sales. "We bring our problems to the meetings and let people make suggestions or beat us up on what we're doing."
"Every month I would listen to him talk about his marketing problems," said Bruck, who with her husband, Fred, started Harquin Creative Group in 1992. The 10-employee company's diverse clients include Girl Scouts of the U.S.A, Bloomingdale's, Macy's, Reader's Digest, Iona College, Pace University, Sound Shore Medical Center, New Rochelle Downtown Business Improvement District, Port Authority of New York and New Jersey and the Westchester Library System.
Bruck told Madaio he needed "a big-picture plan, a marketing strategy. He basically had been doing everything himself for 30 years," she said. "It was getting more and more complicated. He was having a harder time marketing his product line."
Geritrex manufactures about 75 over-the-counter pharmaceuticals and products for skin care, wound care and personal care that are packaged and sold in 130 stock-keeping units to general purchase organizations or GPOs, wholesalers and directly to hospitals and institutions. "It's a very complex sales system and it's very difficult to get past the feeding frenzy of prices, those price wars," said Bruck. "That's what Tony and his sales people were stuck in – what's the cheapest, not what's the best."
Madaio said 60 of those 75 products are generic versions of original branded products. Geritrex products generally are priced at least 30 percent lower than those of brand-name competitors. But cheaper doesn't mean they are of inferior quality, he said. "I won't make a product that isn't just as good as a brand name" – or better, he said.
Bruck early this year interviewed several pharmaceutical buyers at GPOs before designing rebranding and developing a marketing plan for Geritrex. "We found in the interviews that people felt highly about his product line, but they didn't know who made it," she said. The marketing program hatched at Harquin will focus on all three buying tiers and promote both the corporate identity and product brand identity for Geritrex.
Bruck has redesigned 15 packages for her Alternative Board colleague. "He's rolling them off the assembly line right now," she said. "It's going to probably take a good year to complete the whole redesign."
"We're ready to rock 'n' roll," Madaio said. Yet his company's product rebranding might be a slower dance than his consultant Bruck would prefer. Operating on a tight budget, Madaio prefers to use up his inventory of old packaging for products rather than wholly discard it for the new and improved look.
"The big companies probably always spent a lot of time on marketing and branding," Madaio said. "That's the reason why they charge so much money. They're selling the sizzle with the steak."
"Sizzle's good," said the recent convert to sizzle. "You've got to have a good steak at the same time."
"As a businessman I have to be concerned about not to put too much sizzle in too fast at the company's expense. So we'll go a little more gradual."
Reprinted by permission from [publication name, vol #, issue#, and date]
Copyright © 2009 Westfair Communications, Inc.
All Rights Reserved