Upcoming Events
June 2014
My DAE colleague Rob Kissner and I are excited to moderate the BCW Power Breakfast Panel on Thursday, June 19th, 8:00 - 9:15 AM at the Crowne Plaza.
Panelists include:
Craig Patrick, Executive Director of Enrollment Strategies, Monroe College
Abigail Adams, Regional Communications Officer, American Red Cross Metro NY North
Kathy Gilwit, Director of Communications, City of New Rochelle
Michael Murphy, New Project Development, Murphy Brothers Contracting
Ric Swierat, Executive Director, Arc of Westchester
If you are an executive, business owner or marketing manager you'll appreciate this lively, informative and robust conversation about digital media best practices, challenges and solutions with our team of panelists who are using digital marketing strategies to benefit their organizations will provide insight, learning experiences, successes and concerns in order to give attendees a 360 degree view of this progressing marketing technique.




Web Design Strategy That Works!
[ Back to News ]
April 8, 2009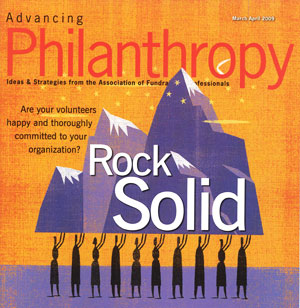 Not so long ago, nonprofits still had the choice of whether to incur the cost of putting up a high-functioning website or not. Those days are gone. Not having a viable website today is equivalent to not having a phone number. The Internet is the information superhighway—the No. 1 way people are going to find you and check out your organization. What they find when they see your website could mean the difference between support and no support. So, when it comes to watching the bottom line, nonprofit professionals need to know that the cost cutting should not come from the website budget.

After all, whose budget is it really? Surprisingly, many professionals still consider a website an IT project because of the mysterious coding process involved. However, it is more of a marketing project because it is your primary communications tool—especially when it comes to getting donors, volunteers and attendees in the much-crowded philanthropy field.

What should a professional, planned website budget include? The primary budget item most people forget to include is brand strategy. Even the smallest organization needs to think strategically because you have only a few seconds to make a good impression on your online visitors. Your mission and vision need to inspire visitors to take some kind of action. That requires thinking about the user first and the organization second.

What will be your strategy for getting what you want? Start out by stepping back and asking yourself two important questions: What do you want your potential donors to think when they come to your site, and what do you want your potential donors to do once they are there? Asking these types of questions force you to think from the visitors' point of view rather than your own. Many organizations start out with long-winded copy about their mission and history as opposed to copy that motivates the visitor. Anticipating what your donors think, and what action you want them to take, will help pinpoint your strategy.

The communications strategy then leads to the functionality your site must have. Functionality is what your site can do. Do you want visitors to donate online? Then you will need an e-commerce component. Do you want volunteers to sign up with online forms? Then you will need a database. Do you want to create an intense emotional response? Then you might want to consider a video component with music. The functionality list can get quite complex (and expensive) and is the key budget driver. However, remember that until you plan your strategy, you will not know whether spending the money is worth it. For example, creating an intense emotional response may be key to your mission, so strategically it would be foolish to eliminate the video for budgetary reasons. Or, it may be clear that an online database is crucial to the fundraising success of a campaign, but someone will decide not to purchase the necessary software because it is considered too expensive. Yet how expensive is it to not have an effective database? Your online visitors expect ease of use, whether your organization is tax exempt or for profit. They no longer make exceptions for the nonprofits' lack of funds.

Nonprofit professionals must rethink the budget expenditures for their website. Navigation, functionality, site map—all foreign words to some communications experts—need to be a part of your website lexicon. Even if you are not doing the design or technical work of building the website, you can follow a few simple steps to ensure you get the product that shows off your organization's valuable work.

1. Do a little browsing online. Look at other websites in your field and see what appeals to you—from the way the site looks and the way it is organized to its functionality. Functionality refers to search functions, flash and any other bells and whistles that will cost more, but will add style and usability.

2. Think strategically. Ask some hard questions. Who are you? What are you? Why should the user care? What do you want? What is your competition? What are the hurdles? How can you make interacting with your organization easy?

3. Create a site map and functionality list. This is the planning stage, and it incorporates your upfront strategy. The site map is your plan for how the website content is organized online. It tracks where all the links will lead and will become your blueprint for writing copy and pulling images together. When planning, think user first and organization second. Can new browsers find contact information on your website in just one click? Can would-be donors find your organization's campaign goals easily? Also, consider how your calls to action get incorporated into the site.

4. Compile images and copy. This can be the longest and most arduous step. A website can be the equivalent of many brochures and it can be overwhelming to track everything down. Most organizations start out by cutting and pasting copy from printed pieces. A writer will need to edit the tone and voice of the copy to keep it consistent and concise. The rule of thumb is to make copy shorter on the Web. This is the stage where gathering and organizing elements from images and copy and tracking down relevant testimonials, etc. is key to creating an informative and appealing site.

5. Design the site. This is where the fun starts. In this step the communications team and IT team work together to create a few design versions of the home page and the other pages of the website called interior pages. All the planning, writing and organization from the previous steps comes together, and you will need to refer back to the site map to make sure that all copy and functionality is accounted for. This is also the time to make changes if need be as the coding hasn't started and it's still quite simple to make adjustments.
 
6. Finish with development and coding. This step is when the site comes to life and the full functionality of the website is activated. You will need to test how everything works and links together—forms, database, flash movies, search functions and more. Expect final testing and proofing to take a few weeks, and then the site is launched live.
 
Every organization is concerned with keeping costs down, and the quickest way to do that is to opt out of unnecessary functionality such as flash, podcasting, blogs and videos. All these can add planning time and money that may not be entirely necessary to advance your mission. You must decide if the extras really are boosting your fundraising business and avoid taking on these added costs just because you have heard they are must-haves. It is much more effective to have a professionally designed and written website with less functionality than to have a badly designed website with streaming video just because it is the latest technology.

Today's Internet visitors have high expectations, are impatient and have been barraged with a glut of media messaging. Give your donors ease of use and the information they need to understand your mission easily. The money and time you put into planning and setting up an engaging, professional, well-written website will translate into more donor dollars for your organization in the end.

Sherry Bruck is creative director of Harquin Creative Group in Pelham, N.Y.