Upcoming Events
June 2014
My DAE colleague Rob Kissner and I are excited to moderate the BCW Power Breakfast Panel on Thursday, June 19th, 8:00 - 9:15 AM at the Crowne Plaza.
Panelists include:
Craig Patrick, Executive Director of Enrollment Strategies, Monroe College
Abigail Adams, Regional Communications Officer, American Red Cross Metro NY North
Kathy Gilwit, Director of Communications, City of New Rochelle
Michael Murphy, New Project Development, Murphy Brothers Contracting
Ric Swierat, Executive Director, Arc of Westchester
If you are an executive, business owner or marketing manager you'll appreciate this lively, informative and robust conversation about digital media best practices, challenges and solutions with our team of panelists who are using digital marketing strategies to benefit their organizations will provide insight, learning experiences, successes and concerns in order to give attendees a 360 degree view of this progressing marketing technique.




Loving Your Brand by Sherry Bruck
[ Back to News ]
March 1, 2008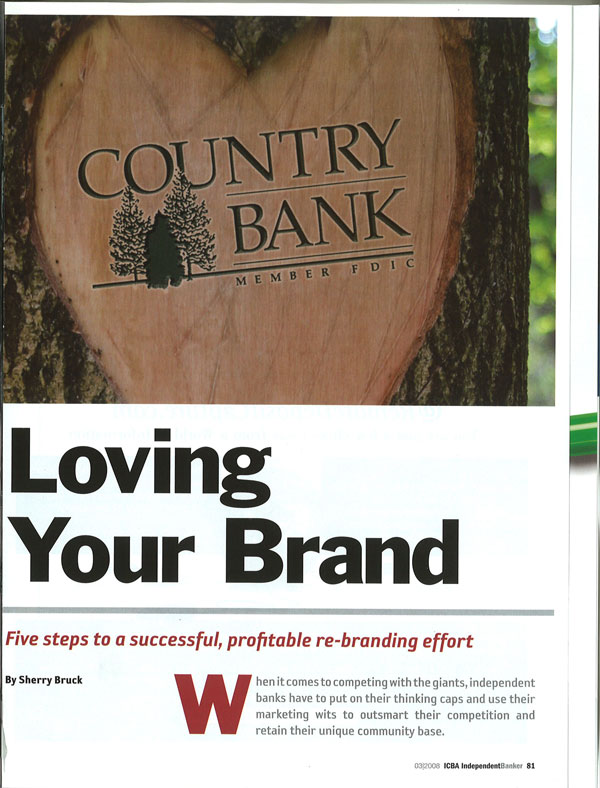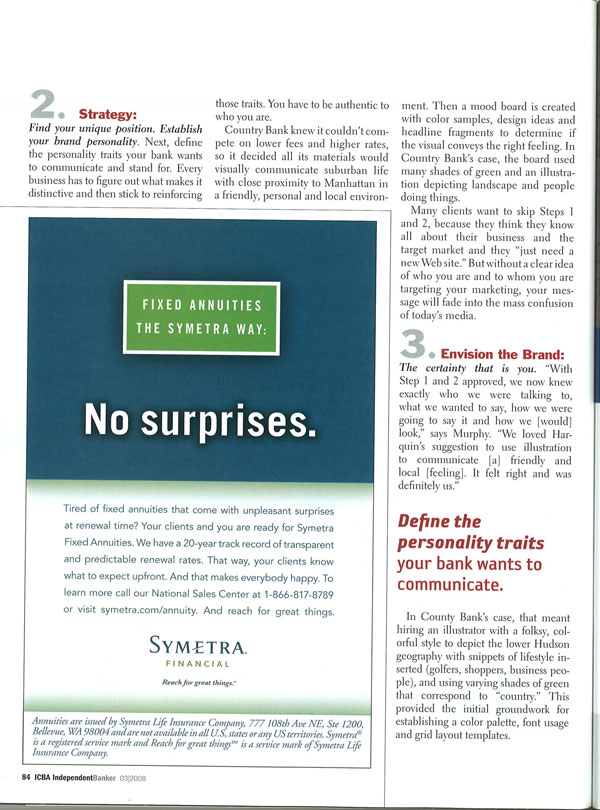 When it comes to competing with the giants, independent community banks have to put on their thinking caps and use their marketing wits to outsmart their competition and retain their unique community base.

Country Bank, a 20-year-old independently owned community bank with five branches in the New York area, had a recognized logo its executive leaders liked and didn't want to change, but they but knew a logo alone was not enough to convey the bank's personal touch, hometown feel and hands-on service. Country Bank had always marketed themselves but didn't do much past a brochure with a logo on the cover with a list of their services or an ad using the logo at the top with a featured rate. They relied solely on their personal relationships to get business, but with the increased competition Country Bank knew they needed to do more. "We wanted the lifestyle and a personality of Country Bank to be communicated in the marketing materials, says Carolyn Murphy, the bank's marketing director, "Reminding customers it is a friendly, service oriented place where people wanted to do their local banking."

Harquin Creative Group, an integrated marketing firm specializing in helping businesses find their unique brand voice and look, was brought in to help. Using Country Bank as the case study, I've outlined five steps involved with a successful branding process for other community banks to consider.

1. Audit and Discovery: Who are you and how are you different? Review current materials and interview customers and then staff to gauge their responses to this question. Often your perceptions are not the same as the customers or the branch managers who interact with the public every day. "In reviewing the competition's materials we found that every bank was using staged or stock photography," says Murphy. "That finding gave us the first clue for how Country Bank could look different from our competitors."

2. Strategy: Find your unique position. Establish your brand personality. Next, define the personality traits your bank wants to communicate and stand for. Every business has to figure out what makes it distinctive and then stick to reinforcing those traits. You have to be authentic to who you are.

Country Bank knew it couldn't always compete on lower fees and higher rates, so it decided all its materials would visually communicate suburban life with close proximity to Manhattan in a friendly, personal and local environment. Out of this crucial step a mood board is created with color samples, design ideas and headline fragments to determine if the visual conveys the right feeling. In Country Bank's case, the board used many shades of green and an illustration depicting landscape and people doing things."

Many clients want to skip Steps 1 and 2 thinking they know all about their business and the target market and that they "just need a new Web site." But without a clear idea of who you are and who you are targeting your marketing, your message will fade into the mass confusion of today's media.

3. Envision the Brand: The certainty that is you. "With Step 1 and 2 approved, we now knew exactly who we are talking to, what we wanted to say, how we were going to say it and how we [would] look," says Murphy. "We loved Harquin's suggestion to use illustration to communicate friendly and local. It felt right and was definitely us."

In County Bank's case that meant hiring an illustrator with a folksy, colorful style to depict the lower Hudson geography with snippets of lifestyle inserted (golfers, shoppers, business people), using varying shades of green that correspond to "country." This provided the initial groundwork for establishing a color palette, font usage and grid layout templates.

4. Propel your Brand: Through any legal means necessary. This is the action step where you finish and execute the marketing plan and the deliverables. It's where the rubber meets the road and the schedule speeds up considerably. Deliverables such as ads, ATM cards, ATM screens, statement stuffers, window posters, internal counter cards, brochures, product sheets, postcards, coffee mugs, can get done quickly. Everything is executed using the previous steps as with the road map.

5. Make it Stick: Measure the success. This is the step where the bank gets the results from its campaign and where ideas and plans are developed for future improvements.

In the case of Country Bank, its re-branding resulted in measurable changes financially that improved its image to existing clientele. "We saw a marked increase in business deposits, certified deposits and the opening of more bank business accounts," says Murphy. She adds there was an increased awareness of the local bank, many customers commented favorably on the new look, and there was an increased feeling of pride in the staff.

Every re-branding process doesn't necessarily mean creating a new logo. But it will always mean researching what your business vision is and who your product is intended for. Putting the time and effort into the initial steps of discovery and strategy will make it easier and more cost-effective to implement your bank's overall marketing efforts in the long run.

Sherry Bruck is co-founder of Harquin Creative Group, a brand marketing firm in Pelham, N.Y. Reach her at sbruck@harquin.com.