Upcoming Events
June 2014
My DAE colleague Rob Kissner and I are excited to moderate the BCW Power Breakfast Panel on Thursday, June 19th, 8:00 - 9:15 AM at the Crowne Plaza.
Panelists include:
Craig Patrick, Executive Director of Enrollment Strategies, Monroe College
Abigail Adams, Regional Communications Officer, American Red Cross Metro NY North
Kathy Gilwit, Director of Communications, City of New Rochelle
Michael Murphy, New Project Development, Murphy Brothers Contracting
Ric Swierat, Executive Director, Arc of Westchester
If you are an executive, business owner or marketing manager you'll appreciate this lively, informative and robust conversation about digital media best practices, challenges and solutions with our team of panelists who are using digital marketing strategies to benefit their organizations will provide insight, learning experiences, successes and concerns in order to give attendees a 360 degree view of this progressing marketing technique.




Meet Me on the Green
[ Back to News ]
March 29, 2011
M. Grace Cantwell well remembers business "pre-golf."
It was about 10 to 15 years ago and the now community relations manager for Barnes & Noble Booksellers in White Plains was then global marketing manager for Forbes magazine.
"I'd attend conferences and conventions and I'd be seated at a table of 10 people and they'd turn to me and ask, 'Do you golf?'" she said at a recent "Golf for Business" seminar presented by the Executive Women's Golf Association Westchester chapter at MasterCard Worldwide in Purchase. "And I'd say, 'No,' and it was like I didn't exist anymore. I felt like I was invisible and I was being left out of the one thing I was there to do – network."
Contrary to popular belief, deals don't get signed out on the green.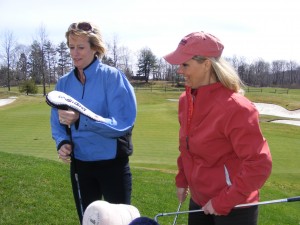 Hilary Tuohy, left, and Sherry Bruck at
Doral Arrowwood in Rye Brook.
"What happens is, you've built the relationship with the client that you're out with and it's much easier to negotiate once you're back in an office setting," said Hilary Tuohy, vice president of the EWGA, Westchester chapter. "And now, you're more likely to get invited out for a morning or afternoon on the links than you are to get invited to a lunch."
The average full-round, 18-hole game could take four to six hours to complete, which Cantwell said is the equivalent of landing "an adjacent seat on a cross-continental flight" next to your biggest business prospect.
A few years ago, Cantwell recalled reaching the 13th hole with a potential client who ran a large accounting firm in Westchester.
A storm was approaching and Cantwell and could-be client sped up their game.
"My ball was a little bit off the fairway in the fringe, so I bent down and looked for it and I got hit right in the derrière with his ball and it was hard and it hurt," she said. "I turned around and said, 'I know I'm a pain in the butt, but is that your way of telling me?"
Her business prospect promptly laughed and they finished their game, took it to the clubhouse and had lunch.
By the end of lunch, could-be client signed on the dotted line.
"I wondered if I had handled the situation differently, would I have gotten the account?"
A game of golf let Cantwell's client peer into her personality – and what she may be like to work with.
"It also gives you the opportunity to be able to make decisions and assess your risk," said Sherry Bruck, president of the EWGA, Westchester chapter. "You have to prepare and develop confidence because there's no room for doubt."
Visit ewgawestchester.com for more information.